Bedrooms are one of the most important and fancied rooms in a house. It is where most of us stay whether to sleep, relax or do most of our activities. It's also considered as the most personal space in our house.
In our previous blog posts, we recommended some ways of using beds and walls as storage spaces and these could be applied in your bedrooms. We know a lot of people who store a lot of personal belongings such as clothes, electronic gadgets and other important items.There are those who feel more secured in using trusted storage facilities in Sydney while some resort to using the bedroom which is more secured than any other part of the house. This is why it is important to maximize every single space in the bedroom no matter what size the bedroom is.
Bedrooms are supposed to make you feel welcome and comfortable. Don't keep it disorganized by storing items in wrong places.
Several storage items can be used to add space in your bedroom while keeping it neat.
Side tables with cabinets
These provide valuable space especially when you're staying in your bed. They can serve as a mini table top to display decorations or put drinks and add items below such as magazines or small items. It's near the proximity in your bed and it serves as a nice complimentary furniture.
Image source: http://decorailumina.com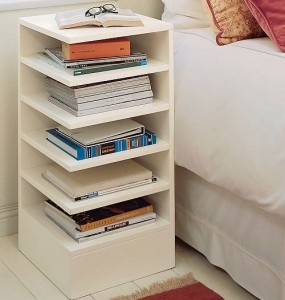 Bookshelf
If you place one near your bed, these could be a good substitute for a side table. You can put not only books but other items such as a lamp. These could also be embedded on the wall instead of buying a huge bookshelf, and will consume less space.
Image source: http://www.home-designing.com
Jewelry rack

If you have jewelries or accessories, you can hang them through racks that can be installed in the walls or placed inside your cabinets. These will make them look organized and easy to find especially the little pieces.
Image source: http://etsystatic.com
 There are several ways of providing storage in bedrooms without compromising the orderliness of your room. You just have to make sure to use the right furniture and put in the right places.